Founded on the development of the world's first fully automated glove knitting machine, we at SHIMA SEIKI Mfg., Ltd. have continually challenged ourselves to develop innovative technology under our corporate motto "Ever Onward." Now, SHIMA SEIKI has evolved into a highly trusted manufacturer of WHOLEGARMENT knitting machines, computerized flatbed knitting machines and computer graphic design systems, with a leadership role in a variety of industries worldwide.

Typically, a knitted garment consists of separate parts— the front and back body panels and the sleeves—which are sewn together afterward. In sharp contrast, SHIMA SEIKI's revolutionary WHOLEGARMENT knitwear is produced in one entire piece, three-dimensionally, directly on the knitting machine. Consequently it requires no expensive, time-consuming post-production labor, realizing a whole new kind of knitwear that would otherwise require highly skilled sewing labor or even be too complicated to sew. Because there are no seams to hinder motion, WHOLEGARMENT knitwear is suited to applications outside the realm of fashion as well, such as sports, medical, and other examples of wearable smart technology. Seam-free "second skin" fit and comfort, in addition to the sustainable benefits of knitwear that consumes only the material required to produce a single garment, makes WHOLEGARMENT the "ideal knitwear."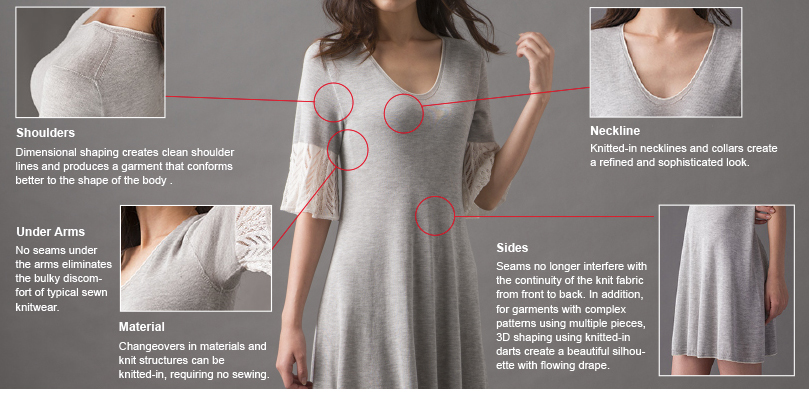 WHOLEGARMENT Knitting Machine



The new MACH2XS WHOLEGARMENT specialty machine features 4 needlebeds and SHIMA SEIKI's original SlideNeedle, the combination of which is considered ideal for producing WHOLEGARMENT knitwear in all needles. MACH2XS furthermore features the world's first application of SHIMA SEIKI's patented spring-type sinkers on a 4-needlebed machine, permitting high quality knitting of complex fabrics and unprecedented capability in WHOLEGARMENT knitting.

3D Design System



The greatest adventage to using SHIMA SEIKi's SDS-ONE APEX3 3D Design System is its 3D simulation capability. Conventionally, a significant amount of time and cost is spent among product planning and production departments, for repeatedly checking and modifying such design elements as pattern, silhouette, color and texture. By taking advantage of the capabilities of SDS-ONE APEX3, it is possible for both planning and production to share a clear image of the design before an actual sample is produced, drastically improving efficiency in the production process.

SHIMA SEIKI, WHOLEGARMENT, MACH2, SRY, SVR, SlideNeedle, DSCS, SDS,SDS-ONE and SDS-ONE APEX are either registered trademarks or trademarks of SHIMA SEIKI MFG., LTD. in Japan and / or other countries.